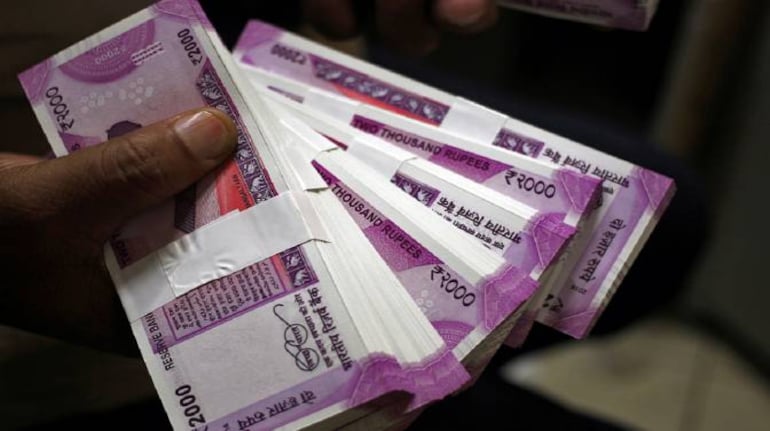 Representative image
The rupee is likely to trade in a range of 82-83 against the dollar in the coming days, and may remain under pressure as the unfolding banking crisis has made investors risk-averse, experts said.
"The bank collapse in the US and its impact in Europe has led to risk aversion and is putting pressure on the rupee, which I think may continue," said Sakshi Gupta, Principal Economist, HDFC.
"Till 31st March, 82-83 will be the range. Beyond 31st March, 81 to 85 up to September 2023," said Anil Kumar Bhansali, Head of Treasury, Finrex Treasury Advisory LLP.
The rupee is trading at 82.46 against the dollar, which is 27 paise up from its previous close. So far this year, the rupee has depreciated by 8.08 percent against the dollar. It is the second worst-performing currency in Asia against the dollar after the Japanese yen, which is down 8.5 percent.
The rupee had gained by 0.3 percent after the Swiss central bank agreed to extend emergency liquidity support to an embattled Credit Suisse.
Despite this, forex dealers expect that the banking crisis will have a larger impact on trader sentiment in the forex market, which may keep the Rupee under pressure.
"We did see pressure on the Rupee due to the bank implosion, when yields cooled off sharply, which in turn impacted the Rupee as well," said Kunal Sodhani, Vice President, Shinhan Bank (Global trading Centre).
"So, it is important to keep track of news from that perspective," added Sodhani.
Bank crisis in US and Europe
The Silicon Valley Bank (SVB) has been shut down by regulators and its assets seized, the Federal Deposit Insurance Corporation (FDIC) said on March 10. The SVB collapse was followed by the failure of two more banks: Signature Bank and Silvergate Corporation.
In Europe, shares of Credit Suisse plunged by 30 percent on March 15 after its biggest investor, Saudi National Bank, ruled out any more cash injection into the troubled bank.
Market experts expect the dollar index (DXY) to find support at 103.50 levels, if not, then 102.58, while 106.20 remains a point of resistance.
"Brent crude prices have been a huge saving grace for India as our inflation forecasts are considering $95 / bbl (barrel), which reduces our import costs as well. The dollar-rupee range will remain at 81.60-83.30 levels," said Sodhani.
RBI intervention
The Reserve bank of India's (RBI) stance on curbing excess volatility has been very clear. "In case we witness undue volatility, the RBI may step in and intervene," said Sodhani.
Market experts further explained that RBI intervenes not just when the rupee depreciates, but also when it sharply appreciates, and builds up its forex reserves, among others.
"In case of a single side upward move of the rupee, the RBI will slow it down considerably," said Bhansali.