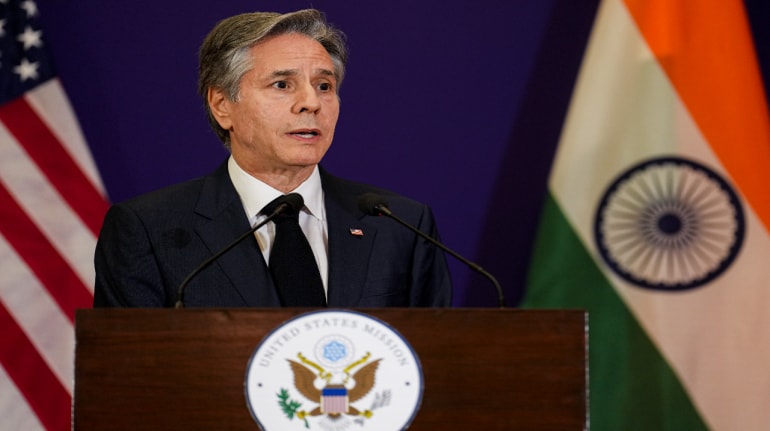 US secretary of state and commerce secretary Antony Blinken to address India Ideas Summit
US secretary of state Antony Blinken and commerce secretary Gina Raimondo along with top members of President Joe Biden administration, congressional leadership and corporate players from India and the United States are expected to join the India Ideas Summit next week.
The summit of the US India Business Council (USIBC) will discuss how to take this relationship for even greater realisation of happiness and prosperity between the two free peoples, organisers said on Thursday.
The theme for this year's summit on June 12 and 13 is 'Trust, Resilience, and Growth', and will focus on how these three organising principles underpin the US-India economic partnership across sectors.
The annual summit of USIBC, which is part of the US Chambers of Commerce, comes ahead of the official visit of Prime Minister Narendra Modi to the US on June 22.
"On Monday June 12th, we're gonna have the secretary of state, Antony Blinken, come and speak to our group. We are also gonna have a session with deputy secretary of state Rich Verma. We are looking to see how we can lift the ambitions of the United States and India for even greater realization of happiness and prosperity between our two free peoples," USIBC president Atul Keshap told PTI in an interview.
On Tuesday, the Ideas Summit will be addressed by commerce secretary Gina Raimondo along with deputy secretary of energy David Turk; Amos Hochstein, the president's advisor on energy issues; Lindsey Ford, deputy assistant secretary of defense for South and Southeast Asia, Vivek Lall, chief executive, General Atomics Global Corporation; among others.
India's ambassador to the US Taranjit Singh Sandhu will share his perspectives from the government of India about ways to take the relationship forward.
"Indian and American companies who are members of USIBC are the world leaders in their fields. …There are so many good stories about USIBC companies that are investing in people, in the United States and India, and we wanna showcase that," Keshap said.
The USIBC president also said that India's economic growth is deeply impressive.
"GDP is to a great extent, the marker by which we gauge the power and influence of nations and India's GDP is rising at really impressive rates. So, reasonable projections by very legitimate institutions estimate that India will be a five and 10 and 20 trillion (dollar) economies in a space of time that is really incredible to consider. You know, by 2047, India could stand transformed in world affairs. So that's incredibly good," he said.
"India's also a very sober and stable voice in international relations. It's a global net provider of security through UN peacekeeping, through its efforts to keep the sea lanes open in the Indian and Pacific oceans. It is a donor country to countries that need a lot of help, uh, and has helped greatly, even in its own neighborhood like with Afghanistan over the years and with Sri Lanka," he said.
Keshap said that the two democratic countries have a lot of affinity and "that affinity is now being expanded through the QUAD and through our global security partnership to ensure the peace and security and tranquility and happiness of people everywhere".
Responding to a question, Keshap said all the CEOs, who have come to India of late and have met with Prime Minister Modi, have committed to make major investments in India.
"That is a recognition that India's macroeconomic policy situation is getting better and better. There are a lot of economic innovations by the government of India that are capturing the interest of the global investment community. India has put a lot of homework and thought and effort into attracting certain sectors, like the electronics manufacturing sector, fintech sector, digital economy sector. So those are real growth engines of the Indian economy. They're gonna get even bigger," he said.
He also said that American companies want to ensure predictability, "and if given that predictability, they will invest very heavily wherever they feel protected, comfortable, stable and not subject to any arbitrary situations".
"India increasingly is that opportunity. Our companies are global. They look at every single place on earth, and they make their best decisions about where a long-term bet can be made," he added.